Our Newsletter
---
Stay up to date with important tax information and current news for your business with our email newsletter. Click on the link below to view our current newsletter and be sure to sign up with your email address so you never miss an issue.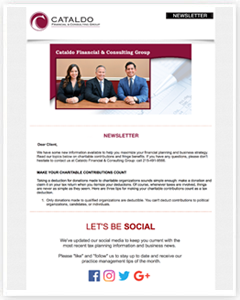 Here is a summary of the details surrounding the new Clean Vehicle Credit: The tax credit of up to $7,500 for electric vehicles (EVs) is extended for 10 years until December 2032. Starting in 2023, used cars now qualify for up to a $4,000 tax credit. Starting in 2024,...
We Want To Hear From You.
Contact us to learn how we can help your dental practice succeed. Send us an inquiry and we will get back to you as soon as we can!