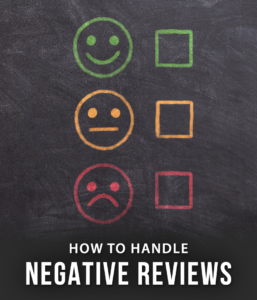 There are many ways in which your patients/customers can review your services online. And odds are that even if you do a great job, one day someone will have an issue that they take public on one of those websites. Here are some tips on how to handle this situation:
1️⃣ Be proactive before the review hits the internet. Be honest and up-front with your practice's patients, follow-through with promises/appointments/timelines, and follow-up/remind patients of upcoming deadlines/appointments.
2️⃣ Fix the problem: try to contact the patient directly and work with them to solve their issue or ease their perspective. Offer a refund, to fix the issue, or some other solution. If you can, get them to remove or update their review after you've made it right.
3️⃣ Know your dissatisfied reviewer. Do they leave negative reviews on other local pages? Or are they just frustrated with the situation with nowhere to turn? It's good to know the difference when handling the person/situation.
4️⃣ Typically, there's at least one breath of truth to a bad review. Use this as an opportunity to grow or change to make your services or offers better.
5️⃣ Respond to the review – but try to turn it into free advertising. Acknowledge the situation, restate the issue, tell how you solved the problem, encourage the reviewer to contact you directly if they have any further issues. Be sure to use a reasonable, kind, and honest tone. DO NOT: get defensive, over-apologize, talk down to the reviewer, or continue the conversation publicly back and forth.
6️⃣ Act quickly to get the situation resolved, but make sure you take the time to follow these steps or at least are calm enough to begin the steps.