Our Newsletter
---
Stay up to date with important tax information and current news for your business with our email newsletter. Click on the link below to view our current newsletter and be sure to sign up with your email address so you never miss an issue.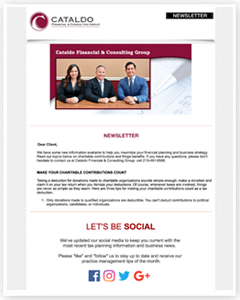 We have just posted the 2017 MIDYEAR TAX PLANNING LETTER on our website. Here are headlines from the Letter. To read any of these articles, click here. If you have any questions, please don't hesitate to contact us at Cataldo Financial & Consulting Group: call...
We Want To Hear From You.
Contact us to learn how we can help your dental practice succeed. Send us an inquiry and we will get back to you as soon as we can!
Contact Us